Established in 1994 (perhaps earlier, but that is as far back as our records go), the Kappa Sigma Alumni Association of Central Florida is an organization of Kappa Sigma brothers residing in the Central Florida area. From events such as Alumni Spring Weekends in Daytona Beach to "Small Fiestas in Orlando" to Founders' Day celebrations, we're always soliciting for new events from alumni. We've recently held activities such as a KSAACF Golf Event, quarterly Happy Hours at local establishments, and several locations on the UCF campus for Football Alumni Tailgates.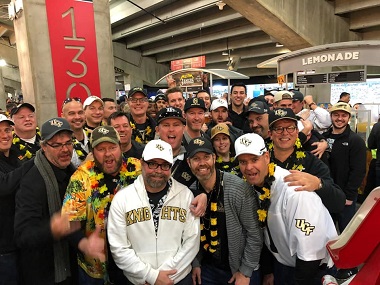 If you have any ideas, or would like to offer your support in any way, please feel free to contact us with your recommendations, or join one of our e-mail distribution lists to receive the latest information on what is going on in the organization. We're looking for new and fun activities. From the self-proclaimed "old farts" of the 1970's to the "noobs" of this century, feedback is always welcome.
As of August 1, 2016, our news updates are now within our KSAACF Facebook Group.

Make your plans to attend the next KSAACF happy hour gathering.  We're meeting back at the bar at Habaneros Mexican Grill on SR 426 (Aloma/W. Broadway) in Oviedo just north of the intersection with W. Mitchell Hammock. All Kappa Sigma brothers (alumni and undergraduates) and significant others are invited to join us.

Date:  Check our calendar for upcoming dates
Time: 5 pm till around 7:30 pm
Place: Habaneros Mexican Grill, 829 Eyrie Dr, Oviedo, FL 32765, (407) 365-7877

Monthly Golf Outings: Usually during the cooler fall-spring months, contact Lloyd for more information.